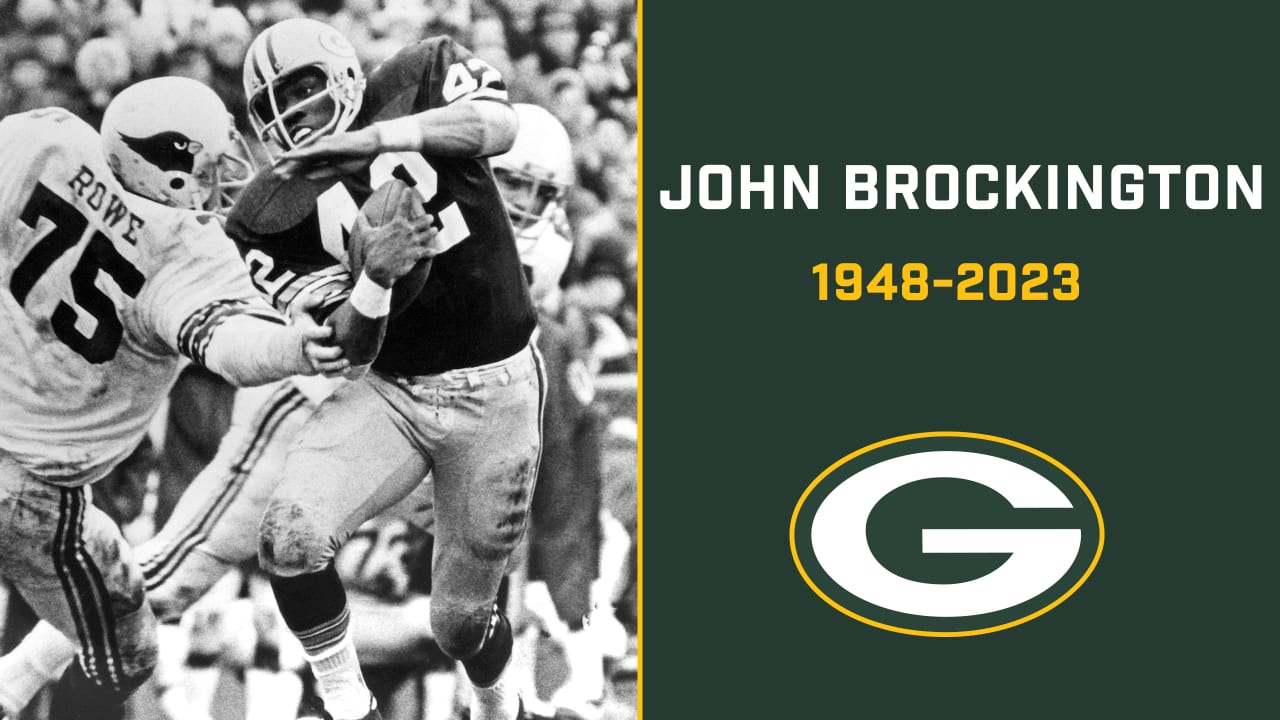 John Brockington's hard-hitting style endeared him to the Packers
John Brockington, a seemingly indestructible linebacker as he took the NFL by storm in his first three seasons with the Packers, died Friday, March 31, in San Diego. Brockington was 74 years old.
Selected by the Packers with the ninth pick of the 1971 NFL Draft, Brockington rushed for 1,105 yards as a rookie, averaging 5.1 per carry, and was named the NFL Offensive Rookie of the Year.
In 1972, Brockington teamed with halfback MacArthur Lane to form a bruising backfield tandem that offensively led the Packers to their only NFC Central Division championship between 1967, Vince Lombardi's final season as coach, and 1995, Mike Holmgren's fourth season as coach. Brockington and Lane combined for 1,848 rushing yards with Brockington receiving 1,027 of them. A year later, Brockington rushed for 1,144 yards, earning him the distinction of being the first in NFL history to rush for over 1,000 yards in his first three seasons.
"John Brockington was the toughest, toughest running back I knew," Bill Lueck, the Packers' starting left guard from 1969 to 1974, said in 2019. "We used to joke, 'No one wants to be the first guy to make contact with John Brockington.'
"He was a beast. Nobody wanted to tackle him. He had run over the first guy. That was his game. But he was also elusive. That's what made him such a dangerous running back. He can run you over the first play, and the next play you're all tense and ready for this big collision, and he'd put a move on you. You never knew what was coming: a move or run over you."
The trademarks of Brockington's game the first three seasons were: Catch the ball, bulldoze into the hole in a drag race and annihilate would-be tacklers. He did it with a rare combination of power and speed mixed with a little wiggle.
In 1972, when the Packers won the division title, Lane and Brockington were also the Packers' two leading receivers with 26 and 19 catches, respectively. Carroll Dale led the wide receivers with 16 receptions.
That statistic alone tells you that there was nothing remarkable about the offense. Brockington weighed 225 pounds; Lane weighed 220. And they were deployed like two batters game after game, series after series.
Pound, pound, pound. That's what they did.
"John ran with a high knee and just punished people," Scott Hunter, the second-year quarterback who would leave the ball and then have a bird's-eye view of the carnage, said in a 2007 interview. "And Mac was so powerful. He ran a little more straight up than John, and he wouldn't punish people as much, but he was just hard to get hold of and then it was hard to hold him when you had to get hold of him because he was so strong."
Even training against the pair wasn't fun.
"I tell you for a couple of years, I'd rather play somebody else than play with our own team," middle linebacker Jim Carter said in 2010. "With (guard Gale) Gillingham and the two guys that came right after, they were a bastard. Talk about beating you. Mac and Brock would really beat you."
Mysteriously, after three seasons, Brockington's stats declined significantly. He rushed for 883 yards in 1974 and then no more than 434 yards in the two years he played under coach Bart Starr. One game into the 1977 season, the Packers waived Brockington.
Red Cochran, the Packers backfield coach under Lombardi and then under Dan Devine from 1971-74, thought Brockington was as good as Pro Football Hall of Fame running back Jim Taylor, if not better, and believed the coaching change was the reason for Brockington's decline.
"Brockington was just faster (than Taylor)," Cochran said in a 2002 interview. "He would turn a six-yard gain into a 30-yard touchdown. He could do everything Taylor could do and with more speed. I think Brockington took a bum rap when Bart took over. People started talking about Brockington dancing. I think what happened, the guy (Starr) that was brought in (Paul Roach as offensive coordinator) reversed that (running back) slant from a quick power play to kind of read-the-block. I think they took away (Brockington's) instincts. When they had Brockington read that block instead of reading it full tilt, when he stopped and looked, (the hole) was away."
Brockington was inducted into the Packers Hall of Fame in 1984. His 5,024 rushing yards still ranks fourth all-time in the team's record book.
#John #Brockingtons #hardhitting #style #endeared #Packers

Source link